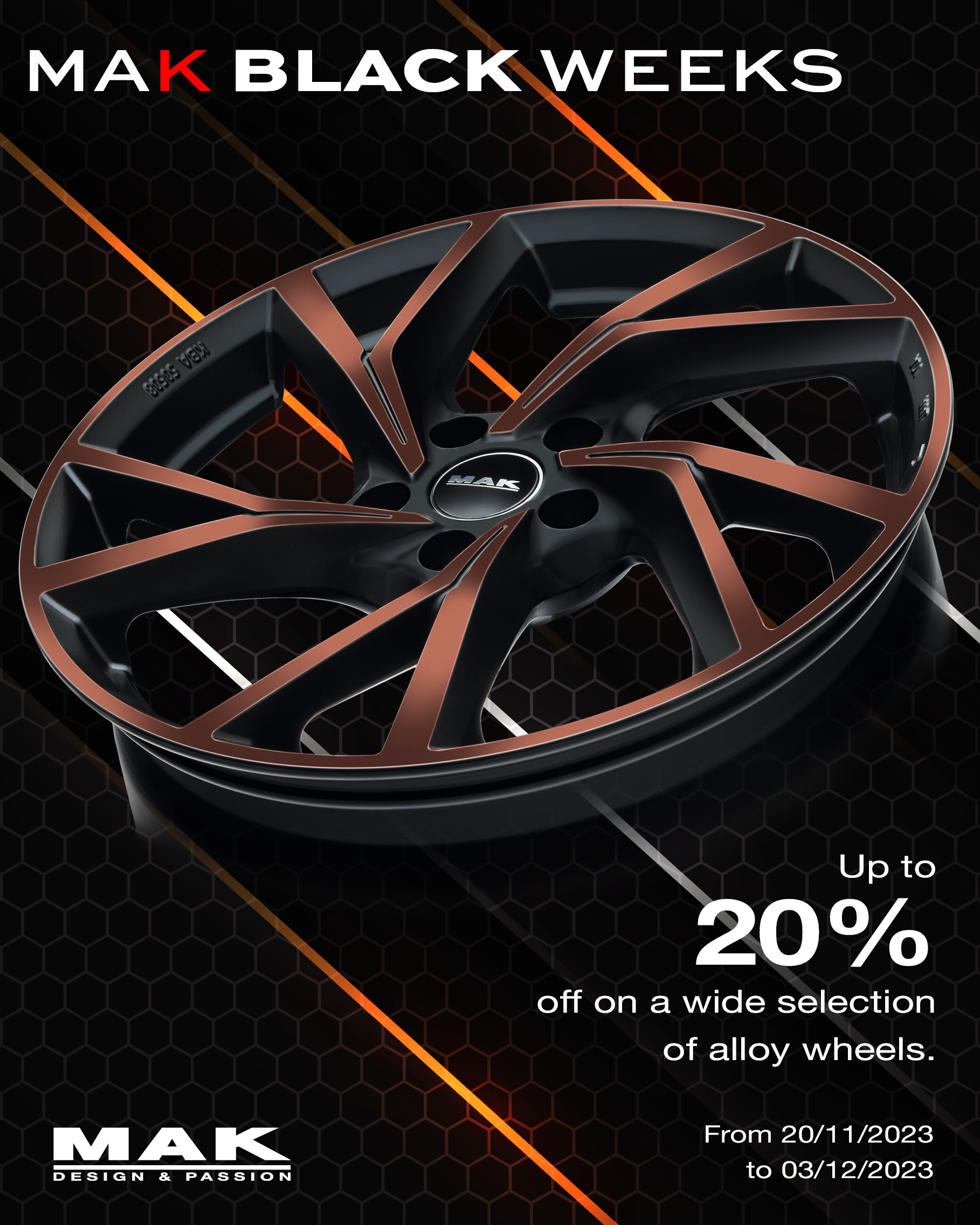 REGULATION 3/23
"Black Friday 2023"
The company "MAK S.P.A.", with registered office in Carpenedolo (BS), Via C. Colombo 14, tax code 03086150178 and VAT number 01840560989, R.E.A. BS-322300, intends to launch the prize operation called MAK 3/23 "Black Friday 2023", as follows:
DURATION: The prize operation will take place from 20th November 2023 to 3rd December 2023.
GEOGRAPHICAL AREA: European countries (Kazakhstan, Finland, Portugal, Slovenia, Belgium, Greece, Slovakia, Czech Republic, Switzerland, France, Denmark, Austria, Poland, Latvia, Estonia, Lithuania, Bulgaria, Netherlands, Ukraine, Norway, Sweden, Germany, Romania, Spain, Macedonia, Hungary, Croatia, Russia, Serbia).
RECIPIENTS: End-consumers.
CONDITIONS OF EXCLUSION: none.
PROMOTED PRODUCTS: up to 20% discount on of MAK alloy wheels per attachment A.
PROCEDURES: In the period of the prize operation, stated in the "Duration" section, all end-consumers who purchase the goods indicated in the "Promoted Products" section would receive a discount on the purchase price. The discount is valid while supplies last.
COMMUNICATION: The content of the prize operation will be communicated using the following means of communication: POP material that will be displayed in the participating stores, and on-line advertising banners. However, the company reserves the right to use any other means of communication that appears suitable for bringing the contents of the prize operation to the attention of the recipients of the same.
CHANGES TO THE REGULATION: MAK S.p.A. reserves the right to change the content of this Regulation at any time, taking care that the changes made do not affect the rights acquired by the promissory, as required by art. 10, paragraph 4, Presidential Decree 430/2001. In the event that it is necessary to amend this Regulation, the Recipients will be notified of the amendments in the same way or with forms equivalent to those with which they became aware of the original promise.
PUBLICATION OF THE REGULATION: The complete Regulation is available on makwheels.it Participation implies the unconditional and total acceptance of the clauses contained in this Regulation for the participant. The discount cannot be substituted or converted into cash or other goods or services, nor are the end-users given any right to request, with or without the addition of sums of money, the possibility of receiving different prizes or discount.
PRIVACY: The personal data released by the Participants will be used for the activities related to the carrying out of the Promotion announced by the Promoter. For complete information on data processing and the exercise of rights in the matter, as indicated in art. 15 of the European Regulation on the protection of individuals with regard to personal data (EU) 2016/679, the makwheels.it website can be consulted in the Legal Notes section.